VCN – Noi Bai International Airport Customs Branch coordinates with other law enforcement authorities and detected over 11.8 kg of rhino horn and 4.7 kg of smuggled ivory transported on a flight from Doha (Qatar) to Vietnam.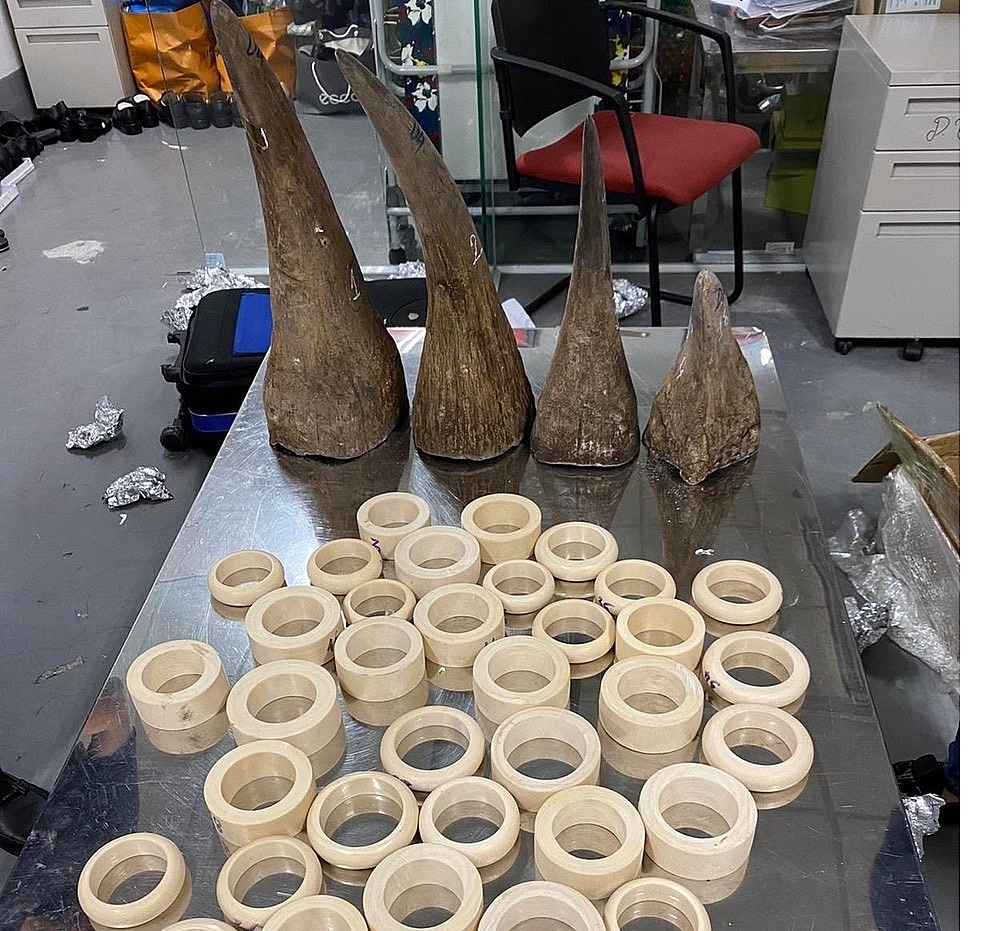 Infringing goods
On April 25, Noi Bai International Airport Customs Branch detected many violations at the International Terminal T2 of Noi Bai International Airport. As a result, the branch coordinated with Team No.7 under Ha Noi City Police, the Northern Anti-Smuggling Enforcement Unit and the Noi Bai International Airport Police to inspect and supervise the luggage and goods of a passenger named N.B.D. entering Noi Bai International Airport from Doha with suspicious signs.
After inspecting the two luggage packages of N.B.D via the portable X-ray scanner, the branch detected suspicious rhino horns and ivory.
Through a physical inspection, the law enforcement forces discovered four cylindrical blocks of animal horns suspected to be rhino horns and 37 circular blocks suspected to be products made from ivory in the passenger's baggage.
The on-site verification results of the Vietnam Academy of Science and Technology representative show that four animal horns are rhino horns; 37 circular blocks are made from ivory. According to the verification results of the Criminal Technology Division – Hanoi City Police, four rhino horns weigh more than 11.8 kg and 37 circular blocks made from ivory weigh 4.7 kg.
According to the declaration, on March 29, Mr N.B.D. carried out exit procedures from Vietnam to Angola. Until April 21, the suspect was on a flight from Angola to Doha (Qatar) and entered Vietnam. In Angola, Mr N.B.D. was paid V.N.D. 50 million by a man named Chung to transport two packages containing rhino horn and ivory to Vietnam.
When Mr N.B.D. transited at Doha Airport, the local law enforcement forces requested him to open a pack of baggage, detected four pieces of rhino horn wrapped with foil, and seized the above package.
On April 24, the competent authority at Doha allowed Mr N.B.Đ to return to Vietnam with one luggage package.
Mr N.B.D admitted that Mr Chung hired him to transport the packages to Vietnam; when he returned to Vietnam, someone would contact him to receive the packages, but no one had contacted him. Notably, Mr N.B.D. said he did not know Mr Chung. However, Mr Chung actively contacted and hired him to transport rhino horns and ivory to Vietnam, and this was the first time Chung hired him to transport these goods.
The Customs authority handover all profile and infringing goods to the Hanoi Police for investigation and handling.
By Ngoc Linh/Ngoc Loan