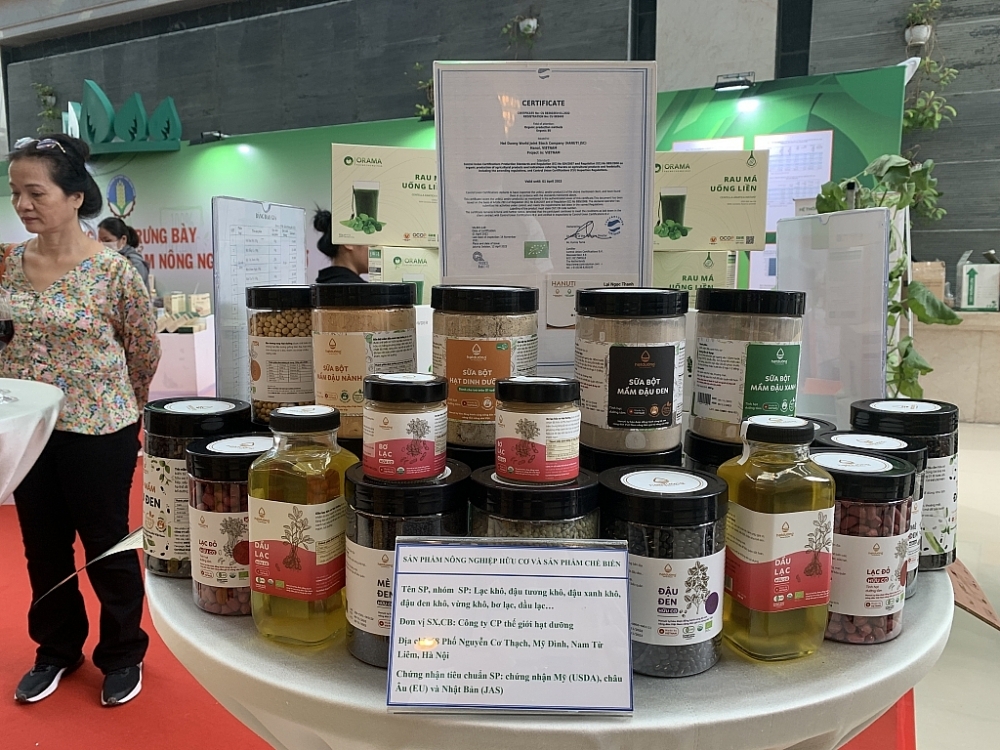 The activity of granting organic agricultural certification is facing many difficulties. Photo: NH
Mr Nguyen Quoc Toan, Director of the Department of Agricultural Product Processing and Market Development – Ministry of Agriculture and Rural Development, said that although there has been a strong development since Decree No. 109/2018/ND- The CP on Organic Agriculture was approved by the Prime Minister on August 29, 2018, and the Organic Agriculture Development Scheme for the period 2020 – 2030 was approved in Decision No. 885/QD-TTg dated June 23 in 2020, the development of organic agriculture in Vietnam still faces difficulties and obstacles and has not brought about significant results.
Specifically, there is a lack of strong enough support mechanisms and specific mechanisms to realise policies to encourage investment and develop organic agricultural production. Therefore, businesses have not yet boldly invested in organic agricultural production due to concerns about risks in production, natural disasters, pandemics and markets; The number of large enterprises investing in organic agriculture is not much.
The restriction on investment makes Vietnam's organic agricultural production still fragmented, small in area and not concentrated. As a result, organic production areas are initially only in the form of models with a small area and are in the process of pilot application.
In addition, the participation of enterprises capable of linking production and consumption is limited. At present, a few corporations, enterprises and cooperatives have had certain success in investing in developing organic products along the chain of medium and large scale, creating a brand and its place in the market. Typically, in the South, there are Vinamit (fruit), Vien Phu (rice), Vinh Hiep (coffee), Lam San Cooperative (pepper), Luong Quoi (coconut product), Hoa Sua (vegetables) fruits, rice), Organic Da Lat (vegetables), Organica (fresh food, dry food), and Nhat Thong (vegetables, livestock products). The Northern and Central regions mainly deployed the value chain linkage models on a small scale, such as organic tea (Ha Giang, Lao Cai, Nghe An) and organic rice (Son La, Vinh Phuc, Thua Thien Hue).
Regarding the certification of organic agricultural products, Mr Toan said. However, thirty-three units were granted the Certificate of registration of activities to certify products in accordance with Vietnam's standard on organic agriculture and four units were granted the Certificate of Operation Registration according to international standards. However, the certification bodies' capacity, especially the auditors' capacity and experience
Certification activities face many difficulties and are not transparent due to fierce competition among certification organisations (customers, costs, good experts); technical infrastructure, machinery, equipment, and technology is lacking and limited. In addition, the certification procedure and process are inadequate, complicated, costly and inconsistent in the issued regulations, not closely following the reality; issues related to international recognition and recognition mechanisms have not been paid attention.
At the forum, all comments said that the demand for organic food is on a strong trend and exceeds the supply. Therefore, to promptly grasp this market trend, it is necessary to have solutions to promote the development of organic agriculture.
Specifically, a representative of the Department of Agriculture and Rural Development of Ca Mau province suggested that the State plan the zoning of organic agricultural production for each group of plants and animals. There are solutions to protect land and water sources, avoiding other plans that affect the production environment of organic agriculture.
The representative of the Dak Lak Department of Agriculture and Rural Development also proposed that the State adopt policies to encourage enterprises to invest in the production and trading of organic products, produce organic fertilisers and biological plant protection products to service production fully, have a capital support mechanism for organisations and individuals involved in the production, processing and consumption of organic agricultural products.
From an expert perspective, Ms Ino Mayu, Chief Representative of Seed to Table Japan, said that it is necessary to support the development of the processing industry to make full use of organic agricultural products, help increase product value and create more products local jobs. At the same time, promote mechanisation and application of environmentally friendly technologies to reduce labour and production costs.