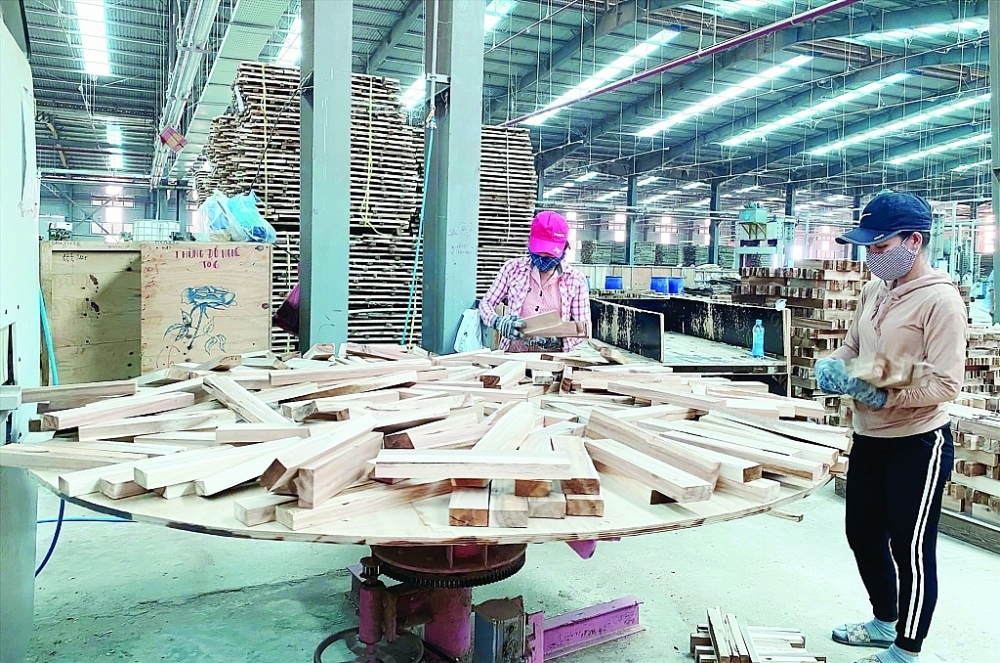 Many businesses are trying to find orders and maintain production. Illustration: ST
Labourers lost their job
Ty Hung Company (Binh Tan District) is an enterprise with 100% capital from Taiwan (China), specializing in manufacturing shoes for export, mainly in Europe, operating in Ho Chi Minh City for nearly 25 years. Recently, the import partner of Ty Hung Company, affected by the economic situation, did not sign the order. As a result, despite taking all measures, the enterprise could not resume production, so the company had to shrink the entire production block and some related units and terminate labour contracts with 1,185 people from December 1, 2022.
Vietnam Samho Co., Ltd (100% Korean capital, specialist in exporting sports shoes in Cu Chi district, Ho Chi Minh City) said it expected to cut nearly 1,500 workers due to a lack of orders. A representative of Vietnam Samho Co., Ltd. said that the company is currently processing shoes for export for two major sports shoe brands. But at the beginning of October, the brand did not continue to sign contracts anymore, so about 3,000 employees will be affected. As a result, some workers were assigned to other factories while the rest had to wait.
Facing the risk of job loss is also the situation of about 100 workers of Tashuan Co., Ltd., a synthetic resin producer located in Tan Tao Industrial Park (Binh Tan District). Due to the lack of orders and financial difficulties, from October 24, enterprises arranged for workers to take a rotating break, working only a few days a week. The company also announced that from November 5, the factory would close two factories until there were orders.
Mr Tran Thanh Son, Head of the Human Resources Department of Song Ngoc Garment Co., Ltd (Binh Tan district), said that the number of orders the company received at present has decreased by about 30% compared to the average of previous years. In addition to reducing the number of orders, the company also faces a greater difficulty in that current customers are ordering in small quantities and in a short time in the style of "keeping a relationship". As a result, many orders are placed in meagre quantities, just under 1,000 products; the order time is also monthly instead of 6 months in advance as before. This makes it difficult for businesses to plan production, import goods, buy raw materials, sew samples, etc.
According to the report of the Management Board of Export Processing Zones – Industrial Parks (EPZs and IZs), currently, out of the city's 17 EPZs, 51 enterprises have reported a decrease in orders with nearly 6,000 affected workers. The decrease in business orders is due to the impact of the war between Russia and Ukraine and the unstable political security situation in many parts of the world; prices of raw materials, fuel and gas are soaring while winter in Europe is beginning. For the above reasons, it has affected the lives of people in the US and Europe, forcing them to cut spending and shop at the end of the year…
In the Dong Nai area, Mr Nguyen Thanh Tuan, Director of Viet Au My Wood Company, said that the operation situation is tough because the number of orders has now decreased by 50-60%, the biggest decrease in US European markets. Accordingly, the company only operates in moderation below the design capacity. "The inventory situation of sellers in the US and Europe is very serious. Many businesses have offered to reduce prices to clear inventory. Therefore, the company only produces about 7-8 containers per month to maintain a stable job for workers, down by about half compared to the previous production of 15-16 containers per month," Mr Tuan shared.
Even due to the difficulty of orders, Lee Fu Wood Co., Ltd in Tam Phuoc Industrial Park (Dong Nai) is expected to give more than 650 employees a month off for the Lunar New Year of the Rabbit in 2023, from January 2 to January 28, 2023, which lasts from December 12 to the end of January 7. Mr Kieu Van Dong, Chairman of the Union of Lee Fu Wood Company, said that the factory produces in moderation. However, workers have to rest on Saturday; life is very difficult, and I hope the authorities will soon have a plan to support them. Similarly, Chien Carpentry Manufacturing Co., Ltd in Tam Phuoc Industrial Park also plans to give workers a month off for Tet.
A representative of the Department of Labor, War Invalids and Social Affairs of Binh Duong province said that out of 800,000 employees at enterprises with grassroots trade unions, up to 240,000 workers have to take leave on Saturdays or alternate days, accounting for about 30% of the total number of employees, occurring most in wood processing and shoe and garment enterprises… due to lack of orders.
Find out the way to overcome difficulties
According to the General Department of Customs statistics, export turnover in the first half of October 2022 reached USD 14.1 billion, down 10% compared to the second half of September 2022. This result shows the deceleration of exports at the end of the year when inflationary pressure is increasing in most of the key export markets.
Usually, the last months of the year are the biggest shopping season in the US and European countries to prepare for important holidays such as Christmas and New Year. However, this year, due to the influence of inflation and the US Federal Reserve (FED) maintaining high-interest rates to fight inflation, people's consumption habits have been greatly affected. Accordingly, food and essentials are the top priorities on consumers' shopping lists, while a wide range of furniture, apparel, and footwear becomes difficult to consume.
Last week, international media reported that Made.com, an online furniture retailer from the UK, had stopped taking new orders after negotiations to find a buyer failed, pushing the company to collapse. Similarly, many other retailers in the US and Europe are also facing great difficulties from inventory and weak purchasing power.
Before these difficulties, to ensure stable jobs for workers, Mr Nguyen Thanh Tuan, Director of Viet Au My Wood Company, said that because the company operates in the trading of raw wood, so, Raw materials are always available in stock for production. Therefore, some products have not been signed by customers, but the company believes there is potential for consumption, so they have been put into production in advance with a moderate capacity. Besides, Mr Tuan is also trying to shift from outsourcing to manufacturing at higher value stages, such as design, to be more proactive step by step in the supply chain. However, this process will require a lot of time and investment. Meanwhile, the capital situation of enterprises is currently very difficult because banks do not disburse again after the business has matured. Therefore, Mr Tuan suggested that the State should have the policy to support capital for businesses in this difficult period.
In addition, according to experts, cutting labour and narrowing production is only the immediate solution. To stabilize production and export, businesses need to find new and untapped markets, such as Africa and the Middle East to offset the order partially. At the same time, fully exploiting markets with tax incentives like Europe or sharply increasing exploitation in neighbouring and stable markets such as Southeast Asia, Japan, and Korea.